Customer Reviews
07/29/2022
Laura M.

United States
Can I have more Mom?
I've always been a dog food snob and try to feed the best food available to my dogs which used to be a well-balanced raw diet. Health issues came up and I just can't cook for my pups anymore so I went looking for the highest quality dog food I could find. It came down to Taste of the Wild, Orijen and Ziwi Peak! So to make everybody happy (especially Pacer) I buy everybody's food, mix it up, and WOW Pacer is indeed one happy 11-year-old pup! He's a very healthy golden with cataracts and a little arthritis after feeding him raw all these years, but after a month of giving him the Ziwi Peak? There's a definite difference in his overall attitude. He seems happier, much more playful, and even interacts with the puppies-in-training when we puppy sit for Guide Dogs pups until we get our pup to raise in a couple of weeks! Is it the other 2 brands? Nope as we added the Ziwi Peak to his diet last and all it takes is just a half a scoop along with 1/2 cup of kibble and 1/2 cup of freeze-dried and it totally transformed our lovely boy! Must be something in New Zealand! Wish I could eat it too!!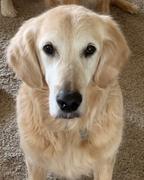 Aussie Coat
On ZIWI Peak lamb alternating bags w beef my tiny 10 pound "Aussie" runs circles around her Corgi buddy every night! Her stools are perfect! She feels like a cotton ball, so soft and shiny, no flakes. Thanks for a healthy food picky Zoe will eat!
"I Love my ZIWI Food!!!" --Bubu
I just had to tell you how amazing your ZIWI Peak gently air dried New Zealand beef recipe is for my dog. He loved it so much that when I went near his bowl, he let me know it was HIS food, which is the absolute top rating coming from him! Bubu is a rescue from the streets and I value his opinion!! I am so pleased to have found this food. Me and Bubu have been telling everyone about your food!
How Did I Not Discover ZIWI Sooner?
Greetings! I MUST take a few moments to send some praise your way! Background first: I am a pet parent to a female Hound of Malta/Red Heeler mix who is 12 years old. Overall healthy, but has lost weight and desire to eat over the winter. I bought her a small batch of your ZIWI Peak air-dried food at a local store, to feed her as a treat. Treat Indeed! She all but ate the container. I was sold, so I went right to the computer and ordered some more. Her normal dog eating routine consisted of maybe some food in the AM, all the cat food she could steal, and maybe a little more food in the late night. I opened the ZIWI air-dried food first and put it in a CLEAN bowl. Then took it to her and presented her with a piece of the food. She was watching the whole time. She took the small piece after her nose did a check of the new food, then off to her bed where she held it in her mouth for near a minute, and then ate it. Then trotted back with the dog face that says "Hey, Dad, how about some MORE of that?" She ate two scoops of it before I could return with a clean bowl of the ZIWI Peak Beef Canned recipe. She smelled the food on the way, left the dry food and sat before me with the dog face that says "What is that, that smells so grand?" I placed the bowl before her and ZOOM, one half a can of the wet food is gone. At length having enough, she drank some water and is now snoozing on the front porch. At last, I have found a food she likes; and better a food that is good for her. Now, of course, I feel like the famous fool and 'heel' for not finding this YEARS ago! You make a fine product!
Cody Won't Eat Anything Else!
Adopted another cute rescue doggo, Cody and he is very picky and underweight. He has a few issues. Doesn't want to eat anything that I bought at the pet supply store and I have been buying it all. Was making him cooked chicken and beef and will eat that only. He will not each peanut butter, eggs, dog treats, etc... He ate the meat but I needed to get him something else that was better for him all around. I saw your ZIWI Peak beef and tried it with him. He loves it and will eat that and I just purchased the chicken bag. Waits for me to put it out for him. We have been so worried about him not eating. Just wanted to say, YEA, you got him to eat! My other do likes it too but she eats anything. Thanks!! Cody and MJ