Customer Reviews
01/04/2022
Lucy M.

United States
The best by far!
Stop searching, say no more! This food is the best I've found and my Golden girl, Demi, loves it! I love how it's so easy to serve, it has all the nutrients she needs, and works with her sensitive stomach. Her coat is noticeably more shiny since starting her on ZIWI over 8 months ago. I was searching for a raw-alternative diet, and was recommended to ZIWI from a friend. I can't stop telling my friends and family about it and even got my parent's dog switched over shortly after Demi started eating it. Highly recommend!!!!!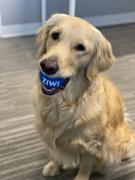 Princess Luca Approved!
I was looking for top quality sourced air-dried toppers and treats and I am glad that I found ZIWI Peak. My furbaby is allergic to beef, and lamb, venison, and mackerel & lamb are such great alternatives! She has very sensitive tummy and bit picky eater but she absolutely loves her topper and treat. I mix topper with her raw food and giving her chew treats for entertainment. I'm already planning on shopping some more. Highly recommend!!!
Aussie Coat
On ZIWI Peak lamb alternating bags w beef my tiny 10 pound "Aussie" runs circles around her Corgi buddy every night! Her stools are perfect! She feels like a cotton ball, so soft and shiny, no flakes. Thanks for a healthy food picky Zoe will eat!