Customer Reviews
02/22/2023
Amber

United States
Miracle food for IBD
My cat has had the stinkiest poops and mild-moderate diarrhea his whole life. No food I tried would help, until I found this. He scarfs this down, and has since gained weight (he needed to), seems much happier, and his poops are more normal than I ever thought possible. To all the people saying their cats threw up from this food, that is likely because you transitioned too quickly. This food is not the same as commercial cat food. Commercial cat food is filled with 20-50% carbohydrates, which cats are not meant to eat. Humans have done a disservice to these poor animals in recent years, and we've caused a lot of damage with the food we feed them. Cats are obligate carnivores and should eat a max of around 3% carbs. If you've fed your cat commercial cat food their whole life then try to switch to this food too quickly, it will make them sick. Be very slow about it, mix in a small amount with their current food and slowly change the ratios until you get to 100% new food. Even this food isn't 100% ideal, but it is 99% better than anything else I've found, and if my cat has to eat it forever, I will be happy. I'm hoping I can switch my cat to raw homemade food since they need the moisture. Check out these invaluable vet nutrition resources if you want your kitty to have optimal health: feline-nutrition.org and catinfo.org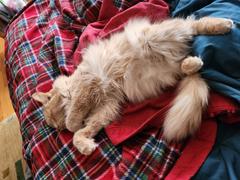 09/19/2021
Karen & Dallas I.
Terrific for Tonto
Please accept this HUGE thank you to ZIWI Peak for helping save the life of our 13 year old orange tabby cat Tonto! Tonto was diagnosed with diabetes and the vet immediately started him on insulin but also wanted us to feed him only low-carb wet food in hopes that removing dry food would allow the diabetes could be diet-controlled. Tonto also has inflammatory bowel disease (IBD) which means he can only eat novel proteins (with venison being his favorite) so this really increased the food challenge. After only 2 weeks on insulin Tonto's blood sugar stabilized and the vet stopped the medication, but we were having trouble getting our sweet orange boy to eat enough as he wasn't thrilled with the myriad of low-carb canned food offerings I was able to find and this was a big concern. Thankfully I was introduced to ZIWI Peak products at Floppy Pets, a wonderful small pet store in Seabrook, TX, and was thrilled to discover that Tonto LOVES your ZIWI Peak Venison wet food! Tonto has been eating his favorite ZIWI Peak Venison exclusively for almost 2 months now and his health has improved tremendously. He got a great report from the vet recently, his appetite is so much better and he has much more energy, to the point of jumping up onto the upper kitchen cabinets to explore which is amazing for a 13 year old kitty who had been feeling poorly just a few months ago! He also likes to nibble on the ZIWI Peak air-dried venison, but the canned venison is his clearly his favorite. Tonto is a wonderful, social, lovable cat who has been a delight since we adopted him as a tiny kitten, and with the help of ZIWI Peak we feel like we have our boy back! Thank you so much for making these quality products; our vet was very impressed with Tonto's improvement from his ZIWI Peak diet and I've extolled the virtues of ZIWI Peak to all our pet-loving friends.
My Cats Absolutely Love ZIWI Peak Cat Food
My cats absolutely love ZIWI Peak cat food. In our house We don't feed kibble so the cats are on a diet of ZIWI Peak with Rad Cat. They love the venison so much they think they are getting a treat. The air-dried formulas are great for kibble addicted kitties. Thank you for making a product with only the best ingredients.