Customer Reviews
02/13/2023
CiCi

United States
Quality food. Premium price.
I bought Ziwi Venison formula because I want to replace my dog's (a Boxer) sweet potato and venison (sweet potato should not be the primary ingredient in a dog's food due to starch content) kibble with one that has venison as the main ingredient. For this reason, you cannot go wrong with Ziwi Venison. Venison is a novel protein and does not cause the inflammation that other overused proteins are known to. For this reason, I also cook/feed my dog pure ground venison ordered from a local butcher. It, too, is pricey at $8.00/lb, but at least I know she's eating a good protein source. Bonus, too, that it Ziwi does not contain pea or chick pea meal which are suspect for contributing to DCM in dogs, and Boxers are already prone to it. Because of the price, I give it to her as her lunch "splash" with smashed fresh blueberries, a probiotic, and other supplements. She's 64# and I would be hard pressed financially to feed it to her at every meal, but would if I could afford it.
02/11/2023
Mikki

United States
Doggy❤️❤️
Our rescues babes love Ziwi! They see the Ziwi bags and begin sniffing and wagging their tails! Their coats are so soft & shiny and we feel good about feeding them air dried food! Just wish it was a bit more affordable.
03/04/2022
Michele J.

United States
Great quality novel food
I have a dog with high allergies to many foods revealed thru testing. Ziwi venison does not trigger her reactions and always provides firm stools - and she loves it! She is a big dog, so from a price point, I must rotate it in to the feeding schedule but I highly recommend you try it.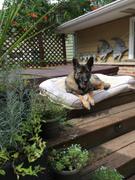 Princess Luca Approved!
I was looking for top quality sourced air-dried toppers and treats and I am glad that I found ZIWI Peak. My furbaby is allergic to beef, and lamb, venison, and mackerel & lamb are such great alternatives! She has very sensitive tummy and bit picky eater but she absolutely loves her topper and treat. I mix topper with her raw food and giving her chew treats for entertainment. I'm already planning on shopping some more. Highly recommend!!!